Philadelphia Flyers Prospects: Don't Give Up on Jay O'Brien
The Philadelphia Flyers 2018 First Round Pick had an unexpectedly frustrating freshman season, but you shouldn't give up on the forward prospect just yet.
To say that Philadelphia Flyers prospect Jay O'Brien had an irritating 2018-19 campaign would be an understatement. The 19-year-old forward suffered numerous upper-body injuries throughout the year, with one of them keeping him out of the Frozen Four Tournament with the Providence College Friars, which was eventually won by fellow Flyers prospect Noah Cates and the University of Minnesota-Duluth Bulldogs.
Due to being sidelined for a good amount of the season, O'Brien netted a mere five points (2 Goals, 3 Assists) in 25 games with the Friars. He did put show some of his offensive talents when he was able to get on the ice, riding a pair of two-game point streaks in December and January and one of his two goals coming on a breakaway attempt.
His talents were on full display during the 2018 Word Junior Summer Showcase. He scored four points in five games during the tourney and made NHL.com's Top 10 Players at the Summer Showcase list with those efforts.
O'Brien just never had the opportunity to get fully accustomed to NCAA level play. He had a big jump to make from the United States High School Preparatory league and having to deal with constant injuries didn't help him get used to the change in pace.
The skills are there. He has an outstanding amount of speed to his game and isn't afraid to lay his body when absolutely needed as you can see here. O'Brien hasn't had too many durability issues before this past year with Providence, and I have to think this was just a horribly unlucky season for the Hingham Massachusetts native.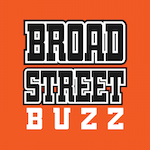 Want your voice heard? Join the Broad Street Buzz team!
Write for us!
As I mentioned above, he's only 19 and has plenty of time to show why former Flyers General Manager Ron Hextall selected him 19th overall. The talent is still there, so you shouldn't give up on O'Brien until he's further into his career as a hockey player.