Philadelphia Flyers Remain or Remove: Brian Elliott
The soon-to-be Unrestricted Free Agent goaltender looked very good at times for the Philadelphia Flyers, but his durability is a significant concern.
When he was able to get on the ice, Brian Elliott was a solid goaltending option for the Philadelphia Flyers in their 2018-19 campaign. He, at times, was flat out stellar between the pipes but had his fair share of inconsistencies along the way.
After struggling his way through the first month of the season, Elliott responded with an impressive month of November, finishing with a 1.35 Goals-Against Average (GAA) and a .954 save percentage. I'd say those were more than adequate numbers you'd like to see out of your starting goalie, but he was eventually hit with the injury bug and sat out until February. If you can recall, that lower-body injury he suffered was only supposed to keep him out for a couple of weeks according to the Flyers, and it ended up taking him a near three full months to get back into action.
Elliott didn't miss a beat upon his return, posting a 2.55 GAA with a .931 save percentage in February while helping lead the Flyers to a 4-3 overtime win over the Pittsburgh Penguins in their Stadium Series matchup. All was looking good for the veteran net-minder, that is until March came around. While he had a few solid outings mixed in, Elliott had a sub-.894 save percentage during the month and in his final start of the season, allowed four goals on five shots in the April 4th game against the St. Louis Blues. Philadelphia's team defense was atrocious during that contest, though, so I wouldn't place all of the blame on Elliott there.
If Elliott does return to the Flyers for the 2019-20 season, he'll play obviously back-up to Carter Hart. He's shown flashes of brilliance as I noted above, but his durability and consistency to produce are a huge question mark for the 12-year NHL goaltender. I think Philadelphia, especially with all of the injuries they dealt with in-net this past year, will want somebody they can rely on to stay healthy and I don't think Elliott can be that guy anymore at this stage of his career.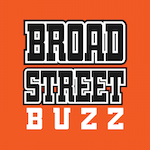 Want your voice heard? Join the Broad Street Buzz team!
Write for us!
There's no denying that Elliott can still be serviceable for some NHL team, but not this one. The Flyers need more stability behind Hart and Brian just doesn't bring that to the table.
Verdict: Remove