Philadelphia Flyers Sign Kirill Ustimenko to Entry-Level Contract
The 2017 Third Round pick is the latest prospect to sign an Entry Level Contract with the Philadelphia Flyers.
The Philadelphia Flyers finally made a bit of news Wednesday morning after going relatively silent since hiring Alain Vigneault as their new Head Coach as they signed goaltender Kirill Ustimenko to an Entry Level Contract.
Ustimenko spent last season in the Molodyozhnaya Hokkeinaya Liga/Russian Junior Hockey League (MHL) in Russia, boasting some impressive stats with MHK Dynamo St. Petersberg. He had a 1.78 Goals Against Average (GAA) with a .927 save percentage in 46 regular season games while also posting a 2.49 GAA, and a .917 save percentage in six playoff games. His GAA sat 13th best, and his whopping 12 shutouts led the entire league which shows the number of skills the Belarus native possesses.
The 6'3 goalie will likely see most of his time with the Reading Royals in the ECHL with fellow goaltending prospect Felix Sandstrom and Alex Lyon already with the Lehigh Valley Phantoms. That's not to say he won't see AHL action with the Phantoms at all next year since injuries are always a possibility, but expect Ustimenko to begin the 2019-20 season as the Royals starter.
Ustimenko already has NHL size as I previously mentioned with his 6'3 frame to go along with tremendous athletic ability. This helps him make some highlight reel saves and aids in tracking the puck as well.
I'm always excited to see new prospects make their way into the North American spotlight. It gives fans who live in the United States a better look at the international talent in the farm system. It'll be interesting to see how he fairs against men instead of junior leaguers and given his excellent skill set, I think he'll do just fine in his first ECHL season.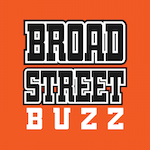 Want your voice heard? Join the Broad Street Buzz team!
Write for us!
Ustimenko is just another goalie prospect in the Flyers pipeline that could find himself in an Orange and Black uniform in the future.