Philadelphia Flyers: Scott Laughton Files For Salary Arbitration
The Philadelphia Flyers Restricted Free Agent Forward will seek a hearing with a third party to help settle his contract dispute.
As the only Philadelphia Flyers RFA with arbitration rights this offseason, forward Scott Laughton has exercised said rights and will have a hearing with the team and a third party sometime in late July or August. Both Laughton and the Flyers can continue to negotiate on a new deal up until the hearing date and have it dismissed if they're able to agree to terms before then.
The 25-year-old forward had a career season for the Flyers last year, posting 32 points (12 Goals, 20 Assists) in 82 games. That ranked ninth on the entire team and broke his previous career high by 11 total points. Laughton also played a key role on Philadelphia's penalty kill, logging two minutes and 14 seconds of Average Time on Ice while shorthanded, which was just four seconds behind Sean Couturier for the lead amongst Flyers forwards. His high energy and tenacious style of play was a breath of fresh air on a mostly stagnant penalty killing unit and produced some offense for the squad with two shorthanded assists.
Filing for arbitration isn't necessarily a bad thing for Laughton and Philadelphia. The 2012 First Round Pick is just exercising rights that were provided to him, and I'm sure if fellow RFA's Ivan Provorov and Travis Konecny, who don't possess arbitration rights since they haven't played at least four years in the NHL, had the chance to do so, they'd also do the same. The Flyers and Laughton's representatives will each offer up a salary they deem fitting, argue why they think that pay is correct, and leave it up to the arbitrator to decide on a wage.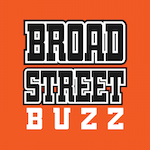 Want your voice heard? Join the Broad Street Buzz team!
Write for us!
Laughton definitely deserves a higher salary than the reported 1.05 million his qualifying offer was set at, and hopefully, both he and the Flyers will come to terms on a new contract sooner rather than later.