Flyers: Inside Jim Jackson's Career as Play-By-Play Broadcaster
For years, Jim Jackson has been calling Flyers game as the play-by-play TV commentator on NBC Sports Philadelphia.
Jim Jackson, who has served as the Flyers play-by-play broadcaster since 1995, has put together one hell of a broadcasting career with the Philadelphia Flyers. Working alongside Keith Jones, who is the color analyst for Flyers gameday telecasts, Jackson captivates those at home listening to Flyers games with his unique voice and amazing hockey knowledge that radiates throughout homes around the region.
Before securing a job with the Philadelphia Flyers, Jackson began his professional career broadcasting for the now-defunct AHL team Utica Devils for a couple of seasons. Graduating from Syracuse University, Jackson got his first real taste in the broadcasting industry while attending the university.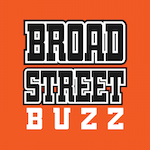 Want your voice heard? Join the Broad Street Buzz team!
Write for us!
Jackson got his first gig with the Flyers when he was 30 years old in 1993. He replaced Gene Hart, the legendary broadcaster, as the radio play-by-play broadcaster. Hart went back to doing television broadcasts for the team. Fans and listeners of the broadcasts were quick to praise Jackson for his knowledge of the game and the style of his radio casts.
Just two seasons later, the Flyers announced Jackson would serve as the television play-by-play broadcaster for broadcasts on Comcast SportsNet, which is now known as NBC Sports Philadelphia. Since then, the 57-year old New York native Jackson has become the voice of the Flyers and a fan-favorite.
The Philadelphia Flyers have yet to win a Stanley Cup champsionship with Jackson being the play-by-play man, but they have made several postseason appearences.
Aside from broadcasting for the Flyers, Jackson had also gotten a job with MLB's Philadelphia Phillies as the radio pre-game and post-game host from 2007 to 2020.
Residing in New Jersey, Jackson has two children and a wife.