Flyers: Does the reverse retro jersey look good on Claude Giroux?
Fans wasted no time in creating photo edits of Flyers players wearing the reverse retro jersey and posting them on Twitter, but Claude Giroux's edit in the jersey stood out the most.
Gritty isn't the only one that looks good rocking a Flyers retro jersey, captain Claude Giroux changed opinions on the jersey after a photo edit that showed him rocking the reverse retro jersey went viral on the social media platform Twitter last week.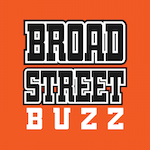 Want your voice heard? Join the Broad Street Buzz team!
Write for us!
It's pretty obvious – the jersey, that was once met with extreme criticism and controversy, is a great addition to the Flyers jersey wardrobe. It's amazing, and all fans should be excited for hockey to start up again so we can see these jerseys in action – in reality, this time.
Twitter user (@joslindesign) uploaded the edit showing off Giroux in the new jerseys and it quickly went viral with some fans even replying the edit changed their minds on the retros.
I have to say – same here.
There is no reason fans should be hating on these sick jerseys now, they're simply amazing. The design on them with the solid orange inside the jersey and the black outline topped off with white outlining the inside with the Flyers logo centered should have every Flyers fan purchasing one.
It's okay to admit that at first you probably hated them, but now – there is absolutely no reason you still should.
Who else can't wait until the season kicks off and we can get our first real look at these fire reverse retro jerseys? They're definitely something that everyone should look forward to and positive out of the upcoming season which could potentially be shortened due to the coronavirus in addition to other changes made to the season
There's always something to look forward to!