Kevin Hayes scores twice but Flyers get grounded by Jets
A week after notching a hat trick, Kevin Hayes had another big night. He scored two goals to help lift the Flyers out of a three-goal deficit. However, the mighty Winnipeg Jets came roaring back and secured a 5-3 victory in Philly. The loss is a bitter one as the Flyers started off the game 3-0i n the first nine minutes and yet they came back to rally against one of the best of the Western Conference.
Felix Sandstrom got his first start in over a month. It was also his first start since returning from a "conditioning stint" in the AHL. Maybe he was rusty as he hasn't been playing much. Maybe it was the fact that the Flyers were facing one of the best teams in the NHL this season. Either or, Sandstrom was quickly attacked by the Jets. Axel Jonsson-Fjallby scored to open up the contest while Kyle Connor and Mark Scheifele scored their 24th and 29th goals of the season, respectively.
Winnipeg is ninth in the NHL in goals scored, but also 8th in goals against. They have the capacity to score on you, score quickly, and then do everything they can to stifle your attack. And that's what happened. The Flyers had plenty of opportunities to score; peppering Winnipeg goaltender David Rittich with 31 shots, but few found their way into the net.
Philadelphia Flyers lose to Winnipeg Jets 5-3
Ivan Provorov put the Flyers on the board near the end of the first period with a goal. Hayes responded with a goal in the second and a goal in the third. And just like that, the game was tied.
But at 8:44, Karson Kuhlman scored the go-ahead goal for Winnipeg. An insurance goal was added by Kevin Stenlund with the net empty and 27 seconds left to go. Despite the loss, there are some positives to take away from this game.
First, despite the huge hole the Flyers put themselves in, they managed to rally back against one of the top teams in the league. Not only that, Hayes has been on fire lately and if he continues to heat up, that will help this team move forward. Likewise, his second goal of the game was on the power play. The Flyers' man-advantage squads have been doing better as of late. Hopefully, this can be yet another trend that the Flyers can start to improve on.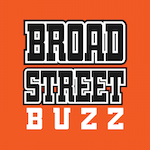 Want your voice heard? Join the Broad Street Buzz team!
Write for us!
Sandstrom, whom the Flyers were allowing to get some extra time in, could be on the trade block. If that is his case, he didn't showcase his skills well in the first half of the first period but rebounded nicely to keep the Flyers in the game. Overall, he stopped 25 of the 29 shots he faced.