Philadelphia Flyers: What a trade for Wayne Simmonds might look like
With the Philadelphia Flyers sitting 14 points out of a Wild Card spot with 34 games left to go, it's time to look a what a potential trade could look like for the veteran forward.
It's safe to say Philadelphia Flyers General Manager Chuck Fletcher will be active come the NHL's February 25th Trade Deadline. He's hasn't been shy in his willingness to make moves, trading Jordan Weal to the Arizona Coyotes and Taylor Leier to the Buffalo Sabres so far in January.
Barring an absolute miracle, the Flyers will miss the playoffs and find themselves in the lottery for the second time in three years. Fletcher has plenty of Unrestricted Free Agents in his arsenal, with none having higher value than Wayne Simmonds. Simmonds ranks second on TSN's Trade Bait List at the time this article was written and would provide obvious value to a team contending for a playoff spot. He should warrant a solid return for Philadelphia, but I wouldn't expect it to be anything too drastic for the team.
Don't come in thinking Simmonds will net a 60 point scorer in return. This is a somewhat obvious statement to be made, but needs to be said given his long-term popularity among the fanbase. While it's true his value will raise as the deadline nears, I think a team will eventually surrender a lower-level or possible young NHL player, 2019 first round pick, and a middle-tier prospect at best for the power forward. I'm not saying this is absolutely, 100% what the Flyers will receive in return, just simply making an opinion on what one could look like.
Looking around the league, I'd look at a team like the Toronto Maple Leafs to make a deal with if I were Fletcher. Simmonds would likely waive his modified no-trade clause and Toronto has more than enough to offer to get the Flyers General Manager to move his hand. More specifically, Andreas Johnsson is a player I'd want to acquire for this team.
He's still young at 24 year-old, has 22 points in 43 games this season, and sits 24th on the Trade Bait list as well. Although his acquisition would leave Philadelphia with more left-handed shooters than right, Johnsson is the most talented player they could possibly receive and make an impact on the roster. Connor Brown is someone to watch, too, if Kyle Dubas doesn't budge on the 2013 seventh round pick.
Prospects-wise, defenseman Fedor Gordeev or center-man Dakota Joshua could spark some interest. Gordeev is a huge, and I mean huuuuuge, 6'6, 225 pound blue-liner who shows the ability to play two-way hockey in the OHL at times. The 19 year-old defenseman has 22 points (3 Goals, 19 Assists) in 40 games, sitting just three points behind his scoring total from last season. He's definitely somewhat of a project and takes too many penalties, but could turn into a decent second pair defenseman if developed correctly.
Joshua is actually a teammate of current Flyers prospect Tanner Laczynski at Ohio State in the NCAA and both are top-three on their team in terms of points. Laczynski has 25 points in 21 games, which is good for second on the Buckeyes, while Joshua ranks third with 19 (8 Goals, 11 Assists) in the same amount of games. Like Gordeev, he plays a more physical style of hockey and earns his points with his 6'2, 198 lbs frame as shown on this goal back in 2017. Neither of these prospects have overwhelming talent, but do possess upside to become solid depth pieces for the Flyers in the future.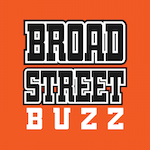 Want your voice heard? Join the Broad Street Buzz team!
Write for us!
Fletcher has a little time before February's deadline to decide what he wants to do. With Simmonds probably departing this offseason via free agency, he might as well get something for him especially when his value on the market is still there.