Philadelphia Flyers Remain or Remove: Ryan Hartman
The 24-year-old Philadelphia Flyers Restricted Free Agent to be looked solid in his Bottom-6 role, but could his production be replicated by a younger prospect?
The main acquisition in the trade that sent Wayne Simmonds to the Nashville Predators, Ryan Hartman performed admirably in his third line role with the Philadelphia Flyers.
Hartman posted six points (2 Goals, 4 Assists) in 19 games in a Flyers uniform while finishing the season with a total of 26 points in 83 games played. He showed he could chip in offensively when necessary while also serving as a pest to the opposition.
His physical playing style filled a need the Flyers had following Simmonds departure, as well. While he didn't have the length that Simmer offered, Hartman could still deliver some big hits and stood up for teammates when deemed appropriate. This did come back to bite him at times, though, as we saw when he racked up 14 Penalties in Minutes in one play against the Carolina Hurricanes. I realize this happened in the Flyers season finale and didn't wholly hurt anything in terms of a playoff berth, but he'll have to be more attentive when games actually matter.
Hartman's advanced stats at even-strength weren't anything to write home about, either. He had the second and third lowest Corsi and Fenwick-For percentages among skaters on the team who played at least 200 minutes in Time on Ice at even-strength with 43.08% and 44.00%. The opposition created more scoring chances in all areas while he was on the ice, too, which was a little concerning, to say the least. He still found ways to produce all of his points at even-strength, though, and that must be commended given his poor production in chance creation.
What it boils down to, for me at least, is if a Lehigh Valley Phantom or junior league prospect could do what he does. We received small sample sizes of Nicolas Aube-Kubel and Mikhail Vorobyev last year, who didn't look awful during their brief stints in Philadelphia but weren't able to score at the rate Hartman has through his five-year NHL career. We know what we're getting out of the former 2013 First Round pick, while Aube-Kubel and Vorobyev are still unknowns at this point in their careers.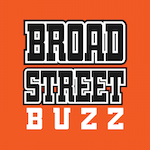 Want your voice heard? Join the Broad Street Buzz team!
Write for us!
I personally like what Hartman brings to the table, even with his less than adequate advanced metrics. Every team needs a physical presence in their lineup, and he brings that with a decent scoring touch, too. It's not like he'll break the bank, either, so for these reasons, I'd like to see General Manager Chuck Fletcher bring him back for the 2019-20 season and share a fourth line with Michael Raffl and Scott Laughton.
Verdict: Remain