The Lehigh Valley Phantoms Should Be Fun To Watch Next Season
With their infusion of veterans and young talent, the Lehigh Valley Phantoms should be a fun team to watch next season.
While Philadelphia Flyers General Manager Chuck Fletcher didn't make a move that directly made the Flyers roster better when the Free Agency period began, he did address the depth issues of the Lehigh Valley Phantoms. In case you missed it, Fletcher signed six players to respective contracts not too long after the noon EST start time and didn't stop there. Lehigh Valley brought back forward Greg Carey and defenseman James De Haas while signing forward Cal O'Reilly to AHL contracts to further sure-up their team. Most of the veterans that were inked to deals have played well during their time in the AHL, giving the Phantoms a shot to get back into the Calder Cup playoffs next year after just missing a postseason berth during the 2018-19 campaign.
It's not only the vets that will make this team fun to watch, either. The Phantoms are set to have an influx of prospects to work with, ranging from players entering their second year in the league to rookies making the jump from college and junior leagues. Guys like Connor Bunnaman, Carsen Twarynski, and David Kase will have experience under their belts while Morgan Frost, Joel Farabee, Isaac Ratcliffe, and Maxim Sushko will get their first taste of professional hockey if one of the first three can't make the leap to the Flyers. That's not to mention that German Rubtsov and Pascal Laberge will be fully healthy and Matthew Strome will play in his first full season, too. Attach Mikhail Vorobyev and Mark Friedman entering their third years, Felix Sandstrom between the pipes and the Phantoms have a lot to look forward to in 2019-20.
Now, there are only so many roster spots to go around so some players will see more time than others, but that shouldn't cover up just how talented Lehigh Valley looks on paper. There haven't been a whole lot of times where I've been this excited about an AHL squad as I am at this moment. Credit must be given to both Fletcher and former GM Ron Hextall for drafting the prospects that could make an impact in Philadelphia in the future and adding quality depth to help lead them through each of their developments while in the AHL.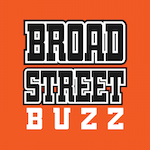 Want your voice heard? Join the Broad Street Buzz team!
Write for us!
I'd highly recommend taking a trip to Lehigh Valley in the fall if at all possible because they'll have an outstanding mixture of youth and experience to make them worth watching next year.