Weekly Buzz: Let's Cancel All Flyers Road Games
This week's serving of Philadelphia Flyers news and links from around the web.
Well, this road trip certainly could have gone better. After a bounce-back win over the Anaheim Ducks, the Philadelphia Flyers have lost to the Los Angeles Kings, Vegas Golden Knights, and Arizona Coyotes in the games since, which isn't very fun or good. One could say it's pretty bad, actually.
The Flyers unveiled a new motto and hashtag to kick start the new year! It's #NowOrNever time, y'all. (Section 215)
So, I think it's fair to say that Chris Stewart isn't who he once was as a hockey player on the ice, but he's still making tremendous contributions to the team away from the rink, which is nice to see. (Courier-Post)
Travis Konecny? Nope, he's All-Star Travis Konecny now. Our boy is going to St. Louis and deservedly so! (BSB)
I know this hasn't been the case lately, but the Flyers have improved in the defensive end and especially on the penalty kill with Assitant Coach Mike Yeo at the helm, who's gone through a rebirth of his own since coming to Philadelphia. (Philly Voice)
Those Flyers youths are still at it in the Czech Republic at the 2020 World Junior Championship and have all shown flashes of talent through preliminary play thus far. (BSB)
Lastly, former Flyers forward Wayne Simmonds and a couple of other members of the New Jersey Devils showed support for Oskar Lindblom, as they photographed themselves donning the 'Oskar Strong' t-shirts, which are still available for sale at BiscuitTees.com if you're interested in purchasing one. I am getting all of the feels over here, gang. (NBC Sports Philadelphia)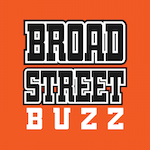 Want your voice heard? Join the Broad Street Buzz team!
Write for us!
Philadelphia is now 22-15-5 with 49 points in 42 games on the year. Hopefully, they'll close out this trip with a win over the Carolina Hurricanes on Tuesday.