Flyers Game Observations: Streaks A Cause For Concern?
The Philadelphia Flyers struggled to deliver back to back quality performances.
Kicking off the first half of back-to-backs, the Philadelphia Flyers beat the Stanley Cup champion St. Louis Blues 4-3 in one of the more entertaining games that I've seen from the team this year. Scott Laughton, Travis Konecny, and Michael Raffl scored in regulation, and Jake Voracek netted the winning goal for Flyers. Brian Elliott played in goal, as Carter Hart was set to be sidelined for at least 2 weeks with an abdominal injury.
This was not close to a perfect game, and Flyers fans will take the effort, passion and outcome any day of the week. There were still a number of odd-man rushes that emanated from a faceoff in the offensive zone. They also were a bit undisciplined as there was one play where a pass found its' way near the Philadelphia bench, and two Flyers were essentially trapped while trying to avoid a too many men on the ice penalty. Those things should have righted themselves in November. You simply cannot sustain a winning attitude (more on that later) making those types of mistakes.
It is encouraging to see how our defense is playing. The Flyers D is so young that they lost half of them because they could not stay up past their bedtime! They played a good game against an intense team with a former Flyer behind their bench, which was very promising to see.
And then Montreal comes to town, and they bring that Flyers team with them. The uninspired, turnover prone, lackluster performing one that keeps the team in a deep sleep that lasts for 20 minutes. This is not an indictment against the defense. The key is to not give up on them. Let them mature and you can build a solid crew that is in the running for the cup. Duncan Keith and, to a lesser extent, Brent Seabrook has been with the Chicago Blackhawks for a decade.
The last observation is that there is a difference between progress and results. Here's a look at how past games have gone for the Orange and Black:
One Win
Four Losses
One Win
One Loss
Two Wins
One Loss
What you see is part focus and part attitude. The coach has a game plan and the players must execute it to the best of their abilities. You cannot look for someone else to get your engines going. Once the puck is dropped, it's on the players. A one-game winning streak is not a streak at all, but it should be something to build upon going forward.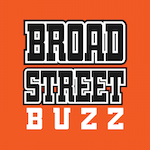 Want your voice heard? Join the Broad Street Buzz team!
Write for us!
The Flyers will take on the Los Angeles Kings on Saturday and hopefully, they won't fall back into another losing skid.