Chuck Fletcher Continues To Reward Flyers Prospects
The Philadelphia Flyers General Manager continues to give the kids a shot at earning a role on the NHL roster.
Since his arrival to the franchise back in December of 2018, we as a fanbase have learned, at the very least, two things about Philadelphia Flyers General Manager and President of Hockey Operations Chuck Fletcher. One is that he's never afraid to make a deal. The longtime NHL GM has been very active in his near year and a half stint with the Flyers, acquiring players such as Kevin Hayes, Matt Niskanen, Justin Braun, and Tyler Pitlick this past offseason while dealing a fan favorite in Wayne Simmonds at the 2019 Trade Deadline for a player and a pick.
Those moves, though ridiculed by some when they were initially made, have mostly paid dividends for the Orange and Black so far, as the four players he brought in during the summer have all had a positive impact on the squad through the first half of the 2019-20 campaign. The other is Fletcher's willingness to give prospects a chance, which has been on full display throughout his Flyers tenure and especially this season.
Whenever the NHL team seemingly has needed a spark, or somebody's gone down with an injury, Fletcher has always looked to the youths to provide that jolt or fill and potentially take the role left by a sidelined player. Joel Farabee, Morgan Frost, Carsen Twarynski, Nicolas Aube-Kubel, Connor Bunnaman, Mikhail Vorobyev, German Rubtsov, and Mark Friedman have all found their way to the City of Brotherly Love, with Farabee being the only one who's apparently solidified a spot on the Flyers roster, playing in the most amount of games at the NHL level of any of those aforementioned talents.
Fletcher also hasn't shied away from giving those prospects more than one shot, either. Vorobyev, Twarynski, Bunnaman, and most recently, Rubtsov, who was recalled from the Lehigh Valley Phantoms Monday morning, have all had or will have a couple of stints with the Fly Guys this season. In most of these recalls, Fletcher's been rewarding the youthful skaters for their impactful play in the AHL. Farabee, Frost, Vorobyev, Bunnaman, Aube-Kubel, Friedman, and Rubtsov had all been performing well to various degrees before their recalls, whether it be points-wise or merely pushing all of the right buttons when out on the ice.
This is an excellent tactic from Fletcher, as it gives any and every prospect more reason to work harder at improving their overall game. Professional experience hasn't played a factor in Chuck's decision in calling somebody up, with Farabee, Frost, and technically Rubtsov all being in their first year of a non-junior level of hockey. So, no matter if you're a 19-year-old winger performing in your rookie AHL season or a 22-year-old centerman who's received several chances at making the NHL, Fletcher will reward you if he, Alain Vigneault, and the Lehigh Valley coaching staff like how you're executing with the Phantoms.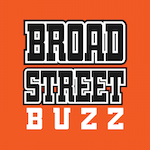 Want your voice heard? Join the Broad Street Buzz team!
Write for us!
A little youthful injection never hurt anybody or team in this case, giving me zero reasons to harp on this type of decision-making from Fletcher. We've been hearing about how deep the Flyers farm system is for years and will no longer have to wait an extra year or two if Chuck and company continue to give the prospects looks, which they've given no sign of slowing down on this year.