Evaluating The Flyers Through The First Half Of 2019-20
How have the Philadelphia Flyers faired through the unofficial midway point of the 2019-20 campaign?
With the final few pre-All Star break games wrapping up on Wednesday night, the league's regular-season is now in a standstill as some of the NHL's best players will head to St. Louis to battle for division supremacy this weekend. Though it doesn't serve as the officially official halfway mark of the year, the nine-to-ten day gap still serves as a nearly perfect time for hockey organizations to evaluate where their roster ranks in the standings and if they should either continue to fight for a playoff spot or deem themselves sellers for the upcoming trade deadline. With that being said, let's take a look at the Philadelphia Flyers and how they've performed through their first 50 games of the season.
One thing that's certain about this Flyers squad is that they're leaps and bounds better than they were in 2018-19. At this point last year, Philadelphia had already fired then-GM Ron Hextall, replaced him with Chuck Fletcher, went on to relive Dave Hakstol of his head coaching duties, and gave Scott Gordon the position on an interim basis all within about a months-span.
As you likely know, Fletcher and current Head Coach Alain Vigneault still have their jobs, so that's a pretty big plus compared to last season's team. Record-wise, Philadelphia had a 19-23-6 record through 48 games heading into the 2019 All-Star festivities while this year's squad possesses a 27-17-6 mark. That's a 16 point improvement with just two more games played, showing how much of a better spot the Flyers are in this time around. Their terrific performance at home has had a lot to do with that, possessing the second-highest points percentage while skating on home-ice.
I could go on about how much Philadelphia's improved compared to their 2018-19 counterparts, but how have they stacked up against the rest of the league this year? Offensively, the Flyers are tied for 15th in total Goals-For with 153, averaging just over three tallies per game. They haven't especially stood out with an extra man on the ice or while play is even, tying for 11th in Power Play and ranking 13th in Even Strength Goals For among all NHL teams.
While you might want to see those numbers improve a bit when considering all of the talent the Flyers have on the offensive side of the ice, it's promising that they're still average-to-above average in several categories without relying on Claude Giroux to carry the load in the attacking zone. They have Travis Konecny and Sean Couturier to thank for that, who are both on-pace for 70 point campaigns.
The Flyers haven't earned their keep on the offensive end of the ice this year, though, as they've shined on the defensive side of things under Vigneault and assistant coach Mike Yeo. Philadelphia's allowed the 12th least amount of total Goals Against while sitting in a four-team tie with the Calgary Flames, Vancouver Canucks, and Anaheim Ducks for 15th in Even Strength Goals Against.
AV has done an excellent job of getting his skaters to hone into his system and work harder in the defensive and neutral zones, as I've noticed a higher amount of effort on the fore-and-backcheck out of the forwards and defensemen when being linked with past teams. Carter Hart and Brian Elliott have also played a part in Philly's defensive success, especially at home, as both netminders have put together some outstanding showings between the pipes this year.
Easily the best aspect of the Flyers this season has been their performance on the penalty-kill, which had been a major issue with the franchise dating back to 2014-15. Under Yeo's control, the Orange and Black have vastly upgraded their work while shorthanded, going from 26th in Penalty Kill Percentage last year all of the way to ninth so far in 2019-20. A more aggressive play style has done wonders for the unit, as they apply more pressure on whoever's carrying the puck instead of sitting back and playing the passing lanes, which was customary when Ian Laperriere was in charge.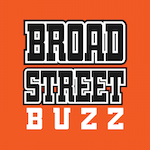 Want your voice heard? Join the Broad Street Buzz team!
Write for us!
Though things could always be better for any team that isn't in first place at the moment, I think the Flyers are in a fine spot at the All-Star break. They're only one and two points behind the Carolina Hurricanes and Columbus Blue Jackets for both Wild Card slots and three back of the New York Islanders for third in the Metro. I fully expect this squad to continue to clash for an Eastern Conference postseason position when the year picks up again and could even earn one of those spots if they're able to solve some of their struggles on the road.