Philadelphia Flyers Trade Deadline Decisions: Buyers
Adding a depth player could be in the fold for the Philadelphia Flyers at the 2020 Trade Deadline.
Sitting with 60 points in 50 games heading into the unofficial second half of the season, the Philadelphia Flyers could certainly be buyers at this year's Trade Deadline given their position in the Eastern Conference standings. At the time this was written, the Flyers were one point out of a tie for the second Wild Card spot, two away from the first, and three behind the New York Islanders for third place in the Metropolitan Division. Philly's positioning in the conference also indicates that they are far from a perfect team and may benefit from acquiring a player in a deal at the February 24th deadline date.
If Nolan Patrick is unable to return from a migraine disorder that kept him out for the entire 2019-20 campaign, the Flyers have a glaring hole at the center spot in the Top-9. Head Coach Alain Vigneault has opted to put Claude Giroux back at center for the time being to help make up for the void left by Patrick and has also given prospects like Morgan Frost and Mikhail Vorobyev a shot to earn the slot, to no avail. I honestly haven't minded Giroux's play since being placed down the middle, but would prefer the Captain be put back on the wing where he's thrived over the past two seasons.
Presuming that Patrick doesn't come back, AV eventually moves Giroux back to the wing, and Fletcher decides to keep Frost, Vorobyev, and every other centerman prospect in the AHL, a trade would almost have to be made to help the depth in the forward group. Though their tight cap situation makes it slightly more challenging, Fletcher could still move a Shayne Gostisbehere or Robert Hagg to get the money to work. Mark Friedman didn't look out of place during his brief stint with Philadelphia in January and would be an option to serve as the seventh defenseman of one of Ghost or Hagg gets dealt.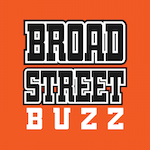 Want your voice heard? Join the Broad Street Buzz team!
Write for us!
Even if the team chooses to go in-house to solve the 3C issue, there are still other holes at the 4C and Bottom-6 wing spots that could be filled via trade, making the possibility of buying at the deadline an intriguing one for Fletcher and company.