Three Standout Players In Flyers Blowout Win vs Capitals
These three players had themselves a night for the Philadelphia Flyers in their blowout win over the Washington Capitals.
Looking to bounce back from a shutout loss to the New Jersey Devils on Thursday, the Philadelphia Flyers hit the road to take on the Washington Capitals. This marked the third of four meetings between the two sides, with each trying to take a 2-1 season series lead heading into their final clash in March. Brian Elliott got the nod from Head Coach Alain Vigneault and opposed Braden Holtby for the Caps.
After a litany of excellent saves from Elliott and Holtby through a good portion of the period, the Flyers were able to get on the board first as Sean Couturier sniped home a shot on the power-play for his 14th goal of the year. Washington responded a few minutes later, capitalizing on a man advantage chance of their own thanks to TJ Oshie, who was left all alone in the slot to net the equalizer and tie everything up going into the second.
Philadelphia stormed back in the early stages of the middle stanza, scoring three goals within 1:45 of each other to suddenly take a 4-1 advantage. Michael Raffl, Couturier, and James van Riemsdyk were all responsible for the quick trio of tallies, forcing Holtby to allow at least four goals in two of his last three games. The refs tried their best to put Washington back in the game by awarding them with several power-play chances, but Philly's PK stood tall to keep their lead at three after two.
Nicolas Aube-Kubel and Travis Konecny extended the Flyers lead to six with a goal each in the beginning stages of the third, earning multi-point performances with their efforts on both plays. From there on, Philadelphia was, for the most part, able to slam the door shut and walk out of D.C. with a 7-2 victory thanks to additional goals from Claude Giroux on the power play, which also marked the 800th point of his NHL career, and from Evgeny Kuznetsov in garbage time.
Headlining my group of standouts for the Flyers in this one just so happens to be Kevin Hayes, who you should almost expect to see on this list when considering just how good he is night in and night out. Hayes generated scoring chances like a mad man against the Capitals, tying for fifth among all Flyers players with four at 5v5, per Natural Stat Trick. He was also his usual self on the PK, helping Philadelphia kill off three of Washington's four power-play opportunities of the night. Philly's going to need guys like Hayes to step up in this critical stretch of games, and the six-year got off to a tremendous start in doing so with his play vs. the Caps.
Next, Couturier was once again rock solid for the Orange and Black tonight. Though he, Giroux, and Jakub Voracek got killed by Washington's Lars Eller line at 5v5 in the opening 20, the guy still ended up with two freaking goals tonight, which led all players on both teams. One of them was of highlight-reel variety, too, deking Holtby out of his breezers to finish the breakaway goal. It's great to have a player who can put a bad start behind them to find ways to produce for their squad and Coots did just that this evening.
Lastly, but certainly not least-ly, how about the performance from Elliott between the pipes? The veteran netminder has come up huge for Philly since Carter Hart went down with an injury, and nothing changed tonight. Elliott single-handedly kept the Flyers alive in the initial minutes of the opening period, stopping a decent amount of Capital chances to keep it a 0-0 contest at that time. He also did a good job of not letting the Oshie tally get to him, continuing to make critical stops in the second and third frames to keep Washington at bay. Moose finished the night making 25 saves on 27 shots, fully earning his 14th win of 2019-20.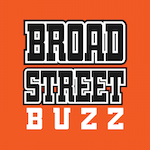 Want your voice heard? Join the Broad Street Buzz team!
Write for us!
The Flyers are now 30-18-9 on the year! Next game is Monday against the Florida Panthers.