Flyers Lose Heartbreaker To Islanders On The Road
The Philadelphia Flyers lost to the New York Islanders in heartbreaking fashion at the Barclays Center.
Not even a full 24 hours after defeating the Florida Panthers 4-1 in their previous contest, the Philadelphia Flyers finished out this set of back-to-backs by taking on the New York Islanders on road ice. Both sides were looking to earn those crucial two points over an in-division foe as the Eastern Conference playoff race continued to get tighter. Brian Elliott received the start for Philly in net and opposed Semyon Varlamov for the Isles.
The Flyers played a half-second behind New York through a majority of the opening frame, failing to win board battles and get to loose pucks when the Islanders were able to set up in their end. They ended up paying the price for it in the form of goals from Josh Bailey, Matt Martin, and Jordan Eberle, eventually trailing the Isles 3-0 when the first 20 minutes were up. While some may criticize Elliott for allowing three goals on nine shots, the Flyers didn't exactly do him any favors with their execution on defense, giving New York far too many dangerous chances.
After tightening things up in their own zone through the early goings of the second, Philadelphia was able to find their first goal of the night in the form of Travis Konecny's 19th tally of 2019-20. James van Riemsdyk found the fellow former first-round pick at the left circle with a beautiful cross-ice pass, and TK did the rest, sniping a puck past Varlamov to rid the Flyers of their goose egg. Konecny also made a nice, subtle play here, hesitating for just a moment before taking the shot to freeze Varlamov and catch him out of position. Robert Hagg followed that up with a goal of his own on the rebound, putting his side within one heading into the final frame.
Philadelphia brought it to the Islanders in the third, hemming them in the attacking zone on numerous shifts while forcing Varlamov to stop some tough shots. That pressure eventually got to the Isles veteran netminder, who couldn't stop Sean Couturier from cashing in on a loose puck and tying the game at three late in the period. Unfortunately, that tie wouldn't last long as Ryan Pulock blasted a one-timer by Elliott from the point 53 seconds later, helping seal what would be a 5-3 victory for New York due to an empty netter. This was nothing short of a heartbreaker for the Orange and Black, who fought tooth and nail to erase a three-goal deficit just to have it all go waste courtesy of some coasting by Philadelphia following Coots' goal.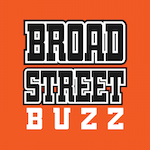 Want your voice heard? Join the Broad Street Buzz team!
Write for us!
The Flyers are now 31-19-7 on the year. Next game is Thursday against the Panthers.