Re-Living The Flyers Improbable Comeback Against Boston
With NBCSP replaying the Flyers comeback against the Bruins in 2010, let's take a look back at how it came to fruition.
Before the Flyers, only two teams in the NHL's history had completed a comeback from a 3-0 series deficit. The Toronto Maple Leafs did it in 1942 and the New York Islanders achieved the feat in 1975. The Flyers completed theirs in the hardest way possible.
After rallying to force a game seven back at TD Garden, the Flyers were looking to complete a task that many hadn't done before. But then they went down three goals in the first period. Michael Ryder scored a power-play goal to get Boston on the board first just under five and a half in. Milan Lucic also scored a goal on the man advantage and added a second goal a few minutes later.
So fourteen minutes into the game, the Flyers were facing yet another 3-0 deficit. And as they had shown before, they wouldn't go down without a fight. Peter Laviolette called what turned out to be one of the most important timeouts he would ever use. And the team responded.
A rookie at the time, James van Riemsdyk grabbed his first career playoff goal at a critical time. It was a slow-rolling back that barely hit the back of the net. But they don't ask how you score them, just when you do it.
They took control after that, getting the games next nine shots. Including JVR's goal, three of those shots would hit the back of the net. Scott Hartnell cut the lead to 3-2 less than three minutes into the second period. And "Mr. Playoffs" himself tied the score at three just under midway through the game. Danny Briere carried the puck behind the net and flashed around to stuff the puck past Tuukka Rask.
The Flyers, along with Michael Leighton, dominated the rest of the game. The Bruins took a critical too many men penalty with 8:45 left in the game. And Simon Gagne came through in the clutch, just as he had done when the team first faced elimination. It was his fourth goal since returning from injury before the fourth game of the series.
Mike Richards' shot from the right circle hit someone in front of Rask. Alertly, Gagne grabbed the puck and sent it over the right shoulder of the Bruins' goaltender with 18 seconds remaining in the power play. Thank goodness Gagne was a left-handed shooter.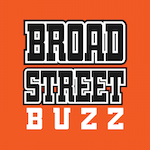 Want your voice heard? Join the Broad Street Buzz team!
Write for us!
It was an improbable comeback for a team that finished the regular season with the seventh-best record in the conference. And if you want to relive the highlights from this one, we've got you covered.