Philadelphia Flyers: Three Bottom Six Players That Surprised Us This Season
Now is a good time to take a look at some of the Flyers players that exceeded our expectations this year.
This looked like the year where the Philadelphia Flyers were going to make a real run during the playoffs. Before the season paused, they won nine of their last ten games. They had catapulted up to second in the division.
It didn't seem like that was going to be a possibility a few months ago. Especially during the West Coast road trip where the team just couldn't seem to get things right. Some of the obvious players like Travis Konecny, Sean Couturier, and Claude Giroux have played a big role.
Those players were expected to have such a role. There are a few others who have helped the Flyers to where they are. And they make up part of the team's bottom-six group. That isn't necessarily where you look for a true impact, but some of those players have stood out in a positive way.
Scott Laughton
It took some time for Scott Laughton to come into his own with the Flyers. His versatility in the lineup has made him an important part of the team. Since signing a two-year contract extension this past offseason, Laughton has provided excellent value to the team. His offense has been proof of this. He's established a new career-high with 13 goals and is five points away from tying his career-high in points.
This comes with Laughton missing 20 games due to a fractured finger and a groin problem. His numbers among the Flyers typical bottom six players are atop the group. He averages 0.55 points-per-game. And he ranks third on the team with a 53.9 percent rate on faceoffs.
His forechecking work has been a part of the team's greatly improved penalty kill unit. The unit has been able to cash in multiple times on shorthanded opportunities. It's hard to imagine when he first came into the league just how important he would end up being to the Flyers.
Nicolas Aube-Kubel
Nicolas Aube-Kubel had his chances before to stick with the team, but hadn't been able to make it work previously. This season has been a completely different story. While he wasn't the Flyers' first choice to call up before, he let them know it was the right call when they finally did bring him up in December. The team was banged up and in need.
Since that date, Aube-Kubel appeared in 36 out of 37 games. He has solidified a role with his energy and willingness to do whatever it takes. And it helps that he's been able to chip in on the scoresheet this season. In his previous nine games with the team, he had failed to register a single point.
This time around, Aube-Kubel has seven goals and eight assists. He had three points in the last five games before the pause. And his ice time has jumped up immensely. He was averaging just 5:35 of ice time last season. That number has gone up to 11:17 this season. The team has put their faith in him and Aube-Kubel has made sure they don't regret it.
Tyler Pitlick
It can be hard to say that a fourth-liner has made an impact on a team. But Tyler Pitlick has been able to do just what the Flyers have asked of him. The team had problems before finding players that could stabilize the bottom of their lineup. The numbers won't jump out to anyone, eight goals, and 12 assists in 63 games. He did have three points in the last five games and earned a promotion to the third line.
But that wasn't why the team brought him in. They tried someone in a similar role when they brought in Ryan Hartman in the Wayne Simmonds trade. He welcomed himself in right away but didn't end up sticking after a few short months. The cost appeared to be a bit much, so they sent him off to Dallas and brought Pitlick in.
Pitlick came in at a cheaper price and was under contract for another season. While the advanced numbers might paint him in a different light, it's hard to say that Pitlick didn't have a positive impact on this team. He became a key cog in the team's bottom six. And his energy is obvious when you watch him on a nightly basis.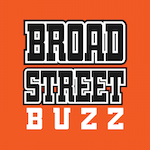 Want your voice heard? Join the Broad Street Buzz team!
Write for us!
If the season is to return, these three players will likely continue to have an impact on how the Flyers perform the rest of the way.