Philadelphia Flyers: Travis Sanheim growing into top defenseman
Travis Sanheim has taken strides forward in his development. He is looking more and more like he could be a top defenseman on the Flyers.
The Philadelphia Flyers drafted Travis Sanheim a year after taking both Robert Hagg and Samuel Morin. They followed up by drafting Ivan Provorov the next season. So it was clear they valued the defensive position. Or they were just taking as many as they could and hoping at least one or two of them hit.
It is obvious that Provorov has done that as he is the team's number one defensemen. The jury is still out on Morin and Hagg is what he is. For Sanheim, this was his third season in the league. So we have a good sample size to evaluate how he has developed.
It took a while for us to see Sanheim at the NHL level. He was drafted in 2014 but didn't make his debut until the 2017-18 season. He was a fairly high scoring defenseman during his final years in juniors. For the Calgary Hitman, he collected the second-most points on the team in his last season and most among defensemen. It was the second year in a row he posted 60+ points.
Sanheim made his professional debut at the end of the 2015-16 season. He looked good in four games, posting four points. His first professional season was sharp as well. His 37 points were second among Phantoms defensemen. Only T.J. Brennan posted more points.
Sanheim was rewarded the following season, making the team out of training camp. He appeared in 49 games during his rookie season but underwhelmed with just 10 points. Sanheim didn't look terribly out of place, averaging over 15 minutes a game in his first year.
He made the team for good last year, appearing in all 82 games for the Flyers. Sanheim was one of the bright spots from last season. The numbers took a large leap as he finished that year with nine goals and 26 assists. It was only his second year in the league, but he had clearly found something that was working for him.
So one can expect him to have taken another leap forward this season. In some ways, he did. The scoring numbers dipped a bit, but he took on bigger roles throughout the season. Sanheim was now averaging over 20 minutes per game. He was getting power play time as well.
On a pair with Philippe Myers, the two posted strong numbers together. They posted a 51.46 CF% which was second among regular Flyers defensive pairings. It wasn't far off of the 51.96% that Matt Niskanen and Provorov posted. The two drove well also, as evidenced by their 51.13 FF%.
The pairing also had the best goals-for percentage at 55.32. It's fair to say the Flyers likely found their second pairing for the future. Going back to Sanheim, it wasn't all positives throughout the entire season, however. We can't forget the stretch of time where it looked like he forgot how to skate. At the end of October and into November, Sanheim couldn't seem to stay on his skates and the Flyers would usually pay the price for it.
He fixed that shortly after and was back to the defensemen we have seen grow throughout these last few years. It is still something to keep an eye in the future as he continues to develop in the NHL.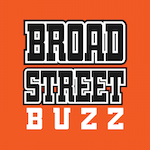 Want your voice heard? Join the Broad Street Buzz team!
Write for us!
Provorov will almost certainly hold the top spot on the Flyers for a long time. It looks like Sanheim has the tools to give the team another top defenseman in the near future, though.