On This Day in Flyers History: Ron Hextall Becomes Second Goalie in Franchise History With 150+ Wins
Ron Hextall became the second player in Philadelphia Flyers franchise history to earn more than 150 wins as a goaltender 25 years ago today.
On October 15th in 1995, the Flyers won their game that day against the Edmonton Oilers with a 7-1 final score. That win would go on to mark another achievement in Ron Hextall's legendary career as a Flyer – his 150th win as a goalie for the team. Earning seventeen saves and allowing just one goal, Hextall was sure to make Oilers fans leave their arena with their heads down.
Eric Lindros, John LeClair, Brent Fedyk, Mikael Renberg, Shion Podien, Rod Brind'Amour, and Mikael Renberg all contributed by scoring one goal each in the victory that helped their goaltender secure his 150th win. The only goal for the Oilers was off of a power play and with less than one minute remaining in the period.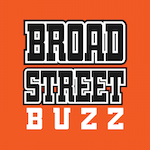 Want your voice heard? Join the Broad Street Buzz team!
Write for us!
The 7-1 win against the Oilers would also go on to mark a four-game winning streak and a four-game losing streak for the opponent.
Hextall spent eleven years playing for the Flyers, which ultimately led to him being a Flyer for the majority of his 13-year career in the NHL. He had also spent time with the New York Islanders and the Quebec Nordiques which are now known today as the Colorado Avalanche.
The 6-foot-3 goalie retired at the conclusion of the 1998-1999 season at the age of 34. He ended his career with a 296-214 win-loss record as a goaltender.
He would go on to serve as the team's General Manager in 2014 where he would remain up until 2018 when he was fired by the club.
Currently, he serves as an advisor to hockey operations for the Los Angeles Kings.