Flyers: GM Chuck Fletcher Plans to Re-Sign Nolan Patrick, Will Look For Offensive Upgrades
In his media availability on Friday, Flyers General Manager Chuck Fletcher offered some interesting comments and says he plans to look for upgrades in the forward position.
Flyers General Manager Chuck Fletcher spoke to the media on Friday afternoon in his first press conference of the offseason. Fletcher, who is in his second season as the general manager, said he is considering extensive upgrades to the forward position but also said that the team has to plan cap-wise for restricted free agents raises.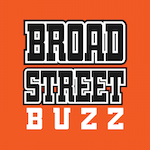 Want your voice heard? Join the Broad Street Buzz team!
Write for us!
He also said that the team will primarily focus on re-signing Nolan Patrick and Philippe Myers. While upgrade options are very limited due to money constrictions, it's no doubt that the team can benefit from 1-2 new forwards that could help the Flyers make the push they need to.
Nolan Patrick, who signed a three-year deal with the team back in 2017, will likely see a contract offer in the very near future. In the best scenario possible, Patrick could receive a deal worth up to $900K for one year.
The young forward would have to prove to the organization that he can stay healthy before they fully commit to signing him to a long-term deal. Patrick has been placed on the Injured Reserve three times in his short career with the Flyers so far. He did not appear in a playoff game this past postseason due to a migraine disorder. However, in more promising news, he did recently participate in a scrimmage in Manitoba.
Myers could also see a contract extension from the Flyers soon. He appeared in 50 games in the 2019-2020 season. He saw ice time in all of the playoff games this year. He racked up three goals in the playoffs. The 23-year-old defenseman is expected to receive a similar offer to Patrick's extension, a one-year deal. Though the team could decide to lock him up long term.
According to Charlie O'Connor of The Athletic, Fletcher acknowledged that it would be hard for the team to move money out. Currently, they have roughly $5 million in available cap space.
It'll be interesting to see the types of roster moves and signings that Fletcher makes this offseason.