This Day in Flyers History: Giroux scores in OT to beat Dallas
It was exactly six years ago today Claude Giroux scored the game-winning goal against the Dallas Stars.
On October 18th, 2014, Claude Giroux put a puck in the net to score the game-winning goal in overtime when the Flyers took on the Dallas Stars in Dallas with a 6-5 final score.
Just two minutes into the first overtime period, Claude Giroux found the back of the net on a powerplay – scoring his second goal of the season. This goal marked just the third game-winning goal of Giroux's career.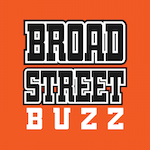 Want your voice heard? Join the Broad Street Buzz team!
Write for us!
The Flyers scored six goals in the game. Sean Couturier, Brayden Schenn, Andrew MacDonald, Jakub Voracek, Michael Raffl, and Giroux all scored one goal each in the game that would be their first win of the season after playing four games.
Steve Mason was the starting goaltender for the game, racking up 14 saves on 18 shots. He allowed four goals and was pulled from the game after the second period.
Backup goalie Ray Emery took over beginning in the third period and allowed just one goal and made four saves on five shots. This appearance would mark one of the last of Emery's career that was filled with off-ice issues such as multiple road rage incidents and fights with teammates.
Following the 2014-15 season, Emery's contract was not renewed and he became a free agent. In 2018, he tragically passed away in Canada after a drowning accident at the age of 34.
The Flyers would go on to finish the 2014-15 season with a 33-31-18 record.