Flyers: Samuel Morin among players placed on waivers
The Flyers placed seven players on the waivers at noon on Monday – one day before rosters are required to be finalized.
On Monday, the Flyers placed seven players on the waivers including winger Samuel Morin, who just transitioned to forward from defense, and goaltender Alex Lyon. This doesn't exactly mean that they won't be with the Flyers organization anymore.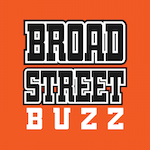 Want your voice heard? Join the Broad Street Buzz team!
Write for us!
Both waiver designations were widely expected, and they are both expected to clear the waivers and potentially be placed on the taxi squad.
If they are not placed on the taxi squad and they are cleared from the waiver wire, they will begin the season in the AHL.
Aside from Lyon and Morin being put on the waivers, five other players were also put on the list.
Defensemen Nate Prosser continues to look for a spot on a NHL roster after he had previously spent the past eleven seasons with Minnesota and St. Louis. The 35-year-old veteran is likely to clear the waivers and be assigned to the AHL club where he was serving as the Captain.
Derrick Pouliot also has some pretty extensive NHL experience, appearing in 202 NHL games with three different teams. He last appeared in a NHL game in the 2019-2020 season with St Louis.
Chris Bigras, the 25-year-old from Canada, has played in two NHL seasons both with the Colorado Avalanche. He made his NHL debut in the 2015-2016 season, and has not appeared in a league game since the 2017-2018 season.
Tyler Wotherspoon is battling for a return to the NHL where last played a regular season game with the Calgary Flames in the 2016-2017 season.
Andy Andreoff appeared in fourteen games with the Flyers last season.
With Mark Friedman being absent from the list, the assumption is that he has made the 23-man roster. The forward put together a good performance for the team in the training camp. The Flyers have until Tuesday to finalize their 23-man roster.
This has now created an interesting roster situation for the Flyers. They have four options for the 13th forward. Morgan Frost, Connor Bunnaman, Linus Sandin, Carsen Twarynski are all suitors for the remaining forward spot. It'll be interesting to see who gets it.
The announcement for the 23-man roster comes tomorrow.