Is Wade Allison starting to come out of his shell with the Flyers?
When you are a second-round pick, in any sport, there are a lot of expectations that are put on your shoulders, whether justly or unjustly. The expectations of how great you will become on a second-rounder are far less than a first-rounder, but far about what a fifth or seventh-rounder would be. However, when given a chance to shine, anyone can rise to the occasion.
Noah Cates is a great example of this. The former fifth-round pick is playing quite well this season serving on the Flyers' top two lines after starting out on the fourth line. Due to injuries, he got advanced in the lineup and has taken every opportunity that has come his way.
Wade Allison is another example. He was the Flyers' second-round pick in 2016; a draft in which the Flyers would love a do-over on their first-round selection (German Rubtsov…..Tage Thompson was picked four players later!). The Flyers had three second-round picks. The first was Pascal Laberge, who is no longer in the organization. The second was Carter Hart and the other was Allison. So, two out of three ain't bad!
Wade Allison could be on his way to breaking out with the Flyers
Allison's road to the NHL has not been easy. In college, in 2018, he tore his ACL while playing for Western Michigan Univ. In 2020, he got injured during Flyers training camp and spent most of the season on injured reserve. He played 14 games in the 2020-21 season, scoring four goals with three assists. Last year, he was injured again, playing one game for the Flyers and 28 for the Phantoms. During this season, he was also placed on IR for a while.
However, since the New Year began, Allison has been on fire. He has three of his six goals this year since Jan 2. Roughly, he's scoring about every other game. He's been playing on a line with Kevin Hayes and Scott Laughton, two great veterans who can give him a lot of guidance.
Allison is 25, so he is one of the "older kids" that the Flyers are trying to get a handle on. This season is make or break for him. The team has put a lot of patience into him, trying to keep him healthy. He has a lot of speed and a lot of vision on the ice. But it is no good if he is hurt. A constantly hurt player is no good for a team or a team's future.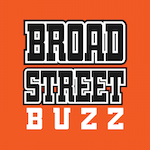 Want your voice heard? Join the Broad Street Buzz team!
Write for us!
Allison has seven points on the season, but again half of his goal total has been in the last eight games. Is this a sign that he is ready to break out? Other Flyers are having career years right now. Could he become the next one? Time will tell. But if he is, he can be part of a great group of young guys, like Owen Tippett, Joel Farabee, Morgan Frost, and Cates that are starting to come of age and help to turn this team around.