Flyers News: Samuel Ersson sent down, Felix Sandstrom is recalled
The Philadelphia Flyers had to come to a decision regarding their goalies. They could've kept all three (Samuel Ersson, Carter Hart, and Felix Sandstrom) on the roster as some sort of weird goalie hydra, and sent Kieffer Bellows down to the AHL through the waiver wires again. Or, they had to send someone down to the AHL (HINT:…not Carter Hart!) and risk losing them on waivers. So, Ersson has been sent to Lehigh Valley and Sandstrom has been recalled.
First of all, this has nothing to do with how Ersson is playing You may remember a few weeks ago, Hart had gotten injured. Ersson stepped in and played some fabulous hockey in the net. Sandstrom just sat there on the bench watching. But when Hart was ready to play, someone was left standing after the music stopped.
But what to do? Keep Ersson as the backup? Or do you send Sandstrom down? If you send Sandstrom down, he'd have to go through waivers. There is a pretty good chance, even with his iffy numbers, somebody would snag him. Sandstrom hasn't played outstandingly well, but he's put up numbers that a backup goalie should make.
The Philadelphia Flyers made some recent roster moves at goalie
For that, he's worth keeping around. If someone is going to take him, they will have to pay up (trade) for him. The Flyers may make a lot of dumb moves, but they are not going to toss aside an asset like that for someone to take for free.
So, the Flyers picked Option C: Send him on a conditioning stint. That little roster trick bought them 12 days. It's not a lot, but it gave them time to ponder that next move. Now, it's today and the Flyers had to figure something out. Ersson is sent down to Allentown where he will stay fresh and get valuable minutes in.
Ersson still has options, so he can be sent down to Lehigh Valley safely. In the meantime, the Flyers can start Sandstrom a few times before the trade deadline to see if anyone bites. Having a few good goalies in your stable is a luxury few teams have. Ersson has probably done enough where he can be a full-time backup or, if the price is right, a really valuable trade commodity in the next few weeks.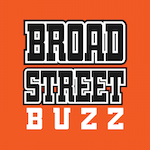 Want your voice heard? Join the Broad Street Buzz team!
Write for us!
Not only that, there is a possibility that the Phantoms could make the AHL playoffs. Ersson could gain some valuable experience, as Lehigh Valley's #1 goaltender. He can help them in some really high-pressure situations in big games and, perhaps, carry that over to the big club in years to come.