DeBrincat Trade Sets Market for Flyers' Travis Konecny
The Ottawa Senators traded Alex DeBrincat to the Detroit Red Wings on Sunday night for what many considered to be an underwhelming return. While DeBrincat and Travis Konecny might be different players, this shows how little leverage teams really have.
The Ottawa Senators made headlines last July when they traded their seventh overall pick, the 39th overall pick, and a 2024 third-round pick for Alex DeBrincat. 367 days later, the Sens moved DeBrincat to Detroit for a conditional 2024 first-round pick, Dominik Kubalik, Donovan Sebrango, and a 2024 fourth-round pick. At the end of the day, the return just doesn't reflect what the Senators paid the Chicago Blackhawks just over a year prior.
Teams are likely wary of swinging big on wingers in the short-term as a result of DeBrincat's lack of success in Ottawa. Timo Meier wasn't amazing in New Jersey, but both Meier and the Devils are betting on a long-term fit and more success. DeBrincat, on the other hand, signed short-term with the Red Wings on a four-year, $7.875 million contract. The Philadelphia Flyers failed to close on any deals involving Travis Konecny before the draft, and was once a robust winger market now looks like 'buyer beware' after the DeBrincat trade.
Meier and DeBrincat weren't going to be fits for everyone, because teams around the league knew those players would be commanding big money. Travis Konecny is a bit of a different story.
Konecny is signed through the 2024-25 season at a cap hit of $5.5 million, which is rather affordable for a 26 year old who has twice had at-or-near point-per-game 60-point seasons. In addition, Konecny is coming off of a season where he scored a career-high 31 goals, and tied his career-best of 61 points. It's reasonable to assume that on a contender or another team that's better than the Flyers, Travis Konecny could go for 40 goals, and 70 or more points.
https://twitter.com/2Murphy8/status/1269652179847204866?s=20
In contrast to the declining market, it would still be wise for the Philadelphia Flyers to move Travis Konecny elsewhere. The team already has Owen Tippett, and they're saddled with Cam Atkinson for another two years. As a result, the Flyers will need to be creative to find ways to get prospects like Tyson Foerster and Bobby Brink in the lineup.
Coming off of a neck surgery, Cam Atkinson isn't likely to have any suitors, especially at a $5.875 million cap hit for two more years. Tippett, on the heels of his breakout 2022-23 season, is the Flyers' right wing of the future. Travis Konecny, though, will be 28 when his contract expires, and holds more trade value than anyone else on the Flyers' roster right now.
Players like Dominik Kubalik or Donovan Sebrango won't appeal to the rebuilding Flyers. Kubalik will turn 28 next month, and is a one-year rental at worst. Sebrango is an average defense prospect, and the Flyers have plenty of blueliners jostling for a roster spot already.
What the Flyers can and should be looking at in a return for Travis Konecny are draft picks, and good ones. Konecny and DeBrincat are around the same age, but Konecny is cheaper in the short-term, and maybe the long-term too. If the Flyers want to improve on a potential return for Travis Konecny, they can argue the player's current contract and situation as ways to sway his value.
Whatever Travis Konecny's value is, it's almost assuredly lower than it was a month ago. The Flyers were looking to wheel and deal before the 2023 NHL Draft, and nothing substantive came of it. Now, they might be paying the price.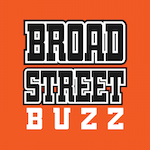 Want your voice heard? Join the Broad Street Buzz team!
Write for us!