Prospects Who Will Shine With The Lehigh Valley Phantoms In 2019-20
The Lehigh Valley Phantoms will have a significant infusion of young talent to their team for the 2019-20 season.
As I mentioned in this article, the Lehigh Valley Phantoms should be a very fun team to watch this upcoming year. They have an excellent mix of prospects and AHL veterans on their roster, with both of them possessing a high amount of individual skill. General Manager Chuck Fletcher did an admirable job of adding guys like Cal O'Reilly, Kyle Criscuolo, and re-signing Greg Carey to bring leadership to a young Phantoms forward group. Their presences should aid in the developments of the rookies and second-and-third year players while also giving them high-end talents to play alongside.
I don't remember a time when the Philadelphia Flyers AHL affiliate had this many top prospects all on the same squad at once. It's nearly impossible to look at the Phantoms roster and not get excited about the potential it has. Now, there's only so much playing time to go around, but there's a developmental rule in the AHL that states a team must dress at least 12 players who have played in 260 or fewer games in a professional league (NHL, AHL, European) with one of them performing in less than 320 contests, meaning most of the prospects will get their shot at some point and not get boxed out by a vet.
Among all of the youthful talent, Morgan Frost, Joel Farabee, and Isaac Ratcliffe are some of the most notable, but I'm not going to mention them on this specific list. First off, they're rather obvious candidates to shine with Lehigh Valley this next season, and I want to bring light to lesser-known names on the club. Second, all three of them, along with German Rubtsov, could potentially make the Flyers out of camp, so I'm not going to speculate which of the four are going to win the spot in this piece since I can't predict the future (I know, I know, sorry). Putting that aside, let's get into it!
The first Flyers prospect that should perform well in the Valley in 2019-20 is Connor Bunnaman. Bunnaman had a solid first season with the Phantoms last year, scoring 32 points (19 Goals, 13 Assists) in 62 games. That led all Lehigh Valley rookies while ranking seventh on the entire team, as well. The 2016 Fourth Round pick did most of his damage on the power-play, with nine of his 19 goals coming on the man advantage. He uses his body and strength to his advantage, though he's not overly massive, and should be able to expand on his production from last season with another year of experience in the AHL.
Felix Sandstrom is another player to watch. Arguably the Flyers top goaltending prospect, Sandstrom made his AHL debut in 2018-19 following another impressive campaign in the Swedish Hockey League and did not disappoint. He made 40 saves on 43 shots, leading the Phantoms to a 4-3 over the Providence Bruins.
The 22-year-old goaltender will likely split time with Alex Lyon in-net this next year and should be given every opportunity to win the starting job away from Lyon throughout the campaign. Unlike Carter Hart, who struggled with the Phantoms at first, I think Sandstrom will start out of the gates hot as he's coming over from a professional and more talented league in the SHL. It's not always easy to transition from a junior league like the WHL to the AHL like Hart did and Sandstrom already having experience playing against men should bode well for him in the new season.
Lastly, I believe Mikhail Vorobyev will rebound from a somewhat disheartening 2018-19 AHL season and flash dominance with Lehigh Valley approaching campaign if he doesn't make the Flyers as an extra forward or a fourth-liner. We saw during the 2018 Preseason and Training Camp that Vorobyev has the tools to be a capable player on the ice, making Philadelphia's squad as the third-line center. He also got off to a great start in the NHL, netting two points in the first two games, but could never find the same success in the following 13 contests. This is a huge year for Vorobyev to show the Flyers brass, who weren't the ones who drafted him, that he can flash his talents more often and I have faith he'll be able to do so with a strong third year in the Valley.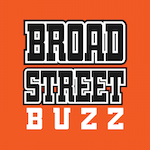 Want your voice heard? Join the Broad Street Buzz team!
Write for us!
Mark Friedman and Pascal Laberge are other names to keep an eye on, but I think Bunnaman, Sandstrom, and Vorobyev should be amongst the player who shine the most for the Phantoms in 2019-20.