Weekly Buzz: A String Of Good Flyers Performances
This week's serving of Philadelphia Flyers news and notes from around the web.
The Philadelphia Flyers had themselves a dang good week of hockey, earning six of a possible eight points with wins over the Boston Bruins, St. Louis Blues, and Los Angeles Kings. Need I remind you that the Blues win came on the road?! Pretty fun stuff here, gang.
Steve made his usual round of observations after each contest and asked if their streaky nature should be something to worry about moving forward this season. (BSB)
Philadelphia's had an issue with Bottom-6 scoring production at points during this year, including at the center position. It's almost like they miss Nolan Patrick or something. (Section 215)
The youth have had their fair share ups and downs for the Flyers throughout 2019-20, but their slow progress isn't something we as a fanbase should fret over. (The Intelligencer)
Forward prospect and 2018 First Round Pick Jay O'Brien has continued to play well for the Pentiction Vees in the BCHL, which is almost precisely what needs to be seen out of him this year. (Philly Voice)
So, Jeff Carter might be available as the trade deadline draws closer, and the Flyers have reportedly discussed the possibility of trading for his services. Should he be a target for Fletcher come February? My opinion: No, thank you. (NBC Sports Philadelphia)
Ariel thinks it's time for the league to put some respect on Sean Couturier's name, as the centerman doesn't get the same amount of recognition as a Patrice Bergeron despite being on a similar level statistically. (BSB)
And finally, the Flyers' new power-play formation has yielded some differing results over the last couple of games. Should Michel Therrien keep the double net-front presence or go back to the way things were before? My thoughts: Keep as-is for now, as it's clearly having a positive impact on Travis Konecny and James van Riemsdyk. (Philadelphia Inquirer)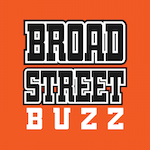 Want your voice heard? Join the Broad Street Buzz team!
Write for us!
Philadelphia's now 26-17-6 with 58 points on the year! They'll have one more game before the All-Star break, facing off with the Pittsburgh Penguins on Tuesday.