Flyers: Claude Giroux shows support for Ivan Provorov on social media
Claude Giroux took to Twitter on Monday night to show his support for teammate Ivan Provorov.
After Ivan Provorov was not included on NHL Network's list that included top defenseman in the NHL currently, Claude Giroux, along with other Flyers fans, were seemingly shocked that Provorov was mentioned on the list.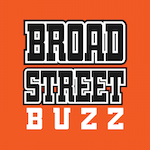 Want your voice heard? Join the Broad Street Buzz team!
Write for us!
Giroux took to Twitter to share his thoughts on the shocking exclusion.
The official Instagram account of the Philadelphia Flyers also reposted the Tweet and took aim at the NHL Network for not including our very own Ivan Provorov on the list.
The real question is – does Ivan Provorov deserve to be mentioned on the list with Alex Pietrangelo, Brent Burns, and other defensemen in the league that could be considered the best in the league currently?
The answer is yes. While it's obvious that Provorov isn't currently the top defenseman in the NHL now, he should have still at least been included on the list, and here is why.
Provorov had one hell of a year in the coronavirus-shortened 2019-2020 season. Appearing in 69 games, he put up 111 blocks, 84 hits, and sixteen takeaways. In the playoffs, in sixteen games played, he has credited 22 blocks and one takeaway.
Flyers and hockey fans took issue that the list included New Jersey Devils defensemen P.K. Subban. It's quite interesting here skill-wise. It is clear that Provorov has shown more ability and skill playing in the defense position than Subban has.
At the end of the day, with no bias here, Provorov should have most definitely been included on the list.