Flyers: Could the Flyers acquire Patrick Kane?
With Patrick Kane potentially being on the move, do the Philadelphia Flyers have a chance at acquiring him?
The answer to that question is not simple. Sure, the Flyers have a chance to be one of the top destinations for Kane should he be on the move from Chicago. Is it likely? Let's see.
The Blackhawks recently penned a letter to fans announcing they are entering the rebuilding stage, and this could mean the team moves on from Patrick Kane as they already parted ways with two other veterans this offseason.
It's quite hard to imagine the three-time Stanley Cup winner coming to Philly, but it's not impossible and some would say there is a slight chance that Kane ends up playing in a Flyers jersey.
Currently, the Flyers have $4.8 million in cap space. The team ranks tenth in cap space in the league, behind the Blackhawks, out of all teams, who rank ninth. Kane signed a deal back in 2015 that is worth a whopping $84 million.
Should Philadelphia decide to take on his contract, the team would no doubt have to ship some of the highest-paid players currently on their roster to afford Kane's services. Travis Konecny, who earns $5.5 million, could potentially be shipped to Chicago in a deal. Other players that could potentially be involved in trade talks include defenseman Shayne Gostisbehere and Jakub Voracek, although extremely unlikely.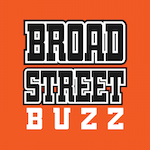 Want your voice heard? Join the Broad Street Buzz team!
Write for us!
There is no doubt that Philadelphia general manager Chuck Fletcher will involve himself in trade talks as he is known for becoming involved in trade talks that don't necessarily work in his favor.
If you recall, the team was close to selecting Patrick Kane initially in the 2007 NHL Entry Draft, but things didn't go quite right for them and they ended up drafting current-Flyer James van Riemsdyk which is not a bad pick.
We'll wait and see what Chicago wants to do with Kane, if anything. Until then, don't get your hopes up Philly fans.